Our Story
Our story begins on April 1, 1997. That's the date company founder and CEO, Brian Rotsztein, published his first website. He was studying psychology at the time and ended up completing graduate studies in the field where he underwent extensive training in clinical work, research, and teaching.
He loved what he was doing but the allure the Internet kept bringing him back. In a surprise 180 degree turn, he launched his first web design company in 1999, in which he offered SEO as one of several services.
By 2004, he saw SEO as the future and decided to launch a stand-alone SEO business. Uniseo was born. It was one of the first companies in Canada (and the world) to be formed with the intention of exclusively offering SEO services. This later changed, of course, as the Internet evolved.
Imagine
Imagine a web design and Internet marketing company that works with clients, not for them. Imagine one that talks you out of making bad marketing decisions. Imagine one that turns down large contracts if it is determined that the money spent will be a waste.
Now imagine a company with friendly staff who know what they are talking about and can explain changes in the web using plain English.
Then imagine a company with integrity like no other, a conscience, and know-how that grows along the Internet journey that we are all on. Uniseo is that company.
I never wanted to have the biggest company. I just wanted a boutique agency where we could make sure our services were the best, most up-to-date that could be found anywhere.Brian Rotsztein, M.A., Founder of Uniseo
…And Then We Wrote Books
Brian started doing SEO in 1997, at a time when there wasn't even a name for it! Back then, before Google even existed, he was teaching other businesses how to implement powerful SEO modifications. He went on to write "SEO for 2012" which was a free 45-page book with the latest techniques at the time. This was followed up with the 400-page "Content Marketing Ideas," a complete guide for any company looking for success online. Very few books even come close to emulating the originality and details in that book. It's rated 5-stars on Amazon in the US, UK, and Canada.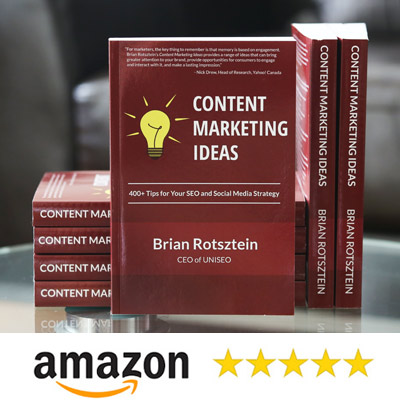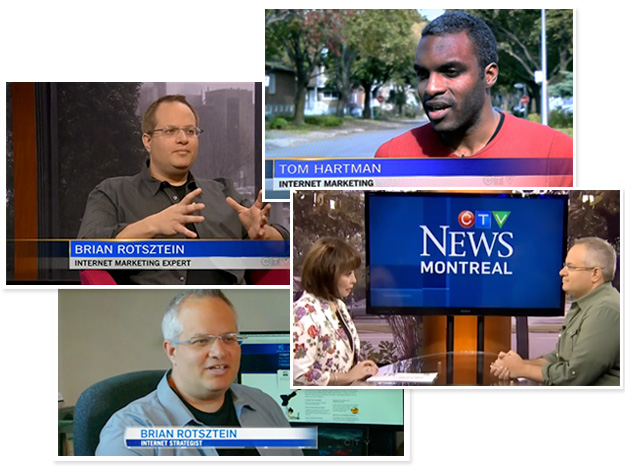 Expansion
As one of the only companies offering SEO training and consulting based on experience, you can imagine that calls came in from around the world. Right from the beginning, there was a flood of opportunities and expansion was a necessity. New team members were selected based on their experience and ability to produce creative online works for a wide variety of projects. Among this crop of fresh talent, a young Tom Hartman was brought in, back in 2009. He quickly became a mainstay.
Over the last few years, our expert opinions have been sought after, with many appearances in the news. Most notably, on multiple occasions, Brian has been a featured guest in the CTV News studio with Montreal's legendary Mutsumi Takahashi.
As Seen In…
A Selection of Our Appearances

Conferences And Teaching
We are typically told that our talks were among the best at any conference and our sessions were worth the price of admission alone. We blend information and entertainment into infotainment and audiences love it. By speaking at conferences year after year, we are naturally forced to stay on top of the industry as we advance attendees' knowledge during these talks. You might see us speak (or be a panelist) at events such as Content Marketing Summit, ClickZ, WordCamps, PodCamps, and so many more.
That bodes well for the students in our workshops. Oh, yes, we have one of the largest selections of up-to-date Internet workshops in the country.
Trusted By These Brands
Our clients range from smaller entrepreneurs to enterprise-level organizations. While our team has developed over 100 websites and Internet strategies for plastic surgeons alone (Wow! Right?!), we've also worked with dozens of verticals such as travel and tourism, retail, medicine, health and wellness, fashion, manufacturing, software, authors, communications, b2b, b2c, and other markets.

Notes Of Interest
We've done so much that this page hardly does it all justice but here are a few more notable points.
Uniseo co-wrote the SEO standards for the Library of Congress (and that's one hell of an accomplishment!). We're talking about the potential to reach millions of webpages.
We run Citynet Magazine
Our software startup, Nuvocore, was sold to the United Nations
We're involved with the Canadian Internet Marketing Association
Toward The Future
Two decades later and the basic ideals behind SEO have not changed. But the Internet has changed and so too have our digital marketing services. It is a lot more complex than it use to be, but we will continue to innovate as we always have.
The ability to reach consumers at every stage of their journey through the purchasing funnel has turned websites, search, and social media platforms into the most powerful sales tool in your toolkit. With a direct line to consumers, our clients have the best opportunity for growth.
Our team is like a family and we want our clients to be part of that cohesive community.