Influencer marketing is ideal for any business that wants to get a specific audience to take note of its brand, event, products or services.
Succeed With Social Media Influencers
It is among the hottest trends in online marketing as people diversify their time online, going from just reading blog posts and Facebook updates to consuming photos and videos on Instagram and Snapchat, becoming diehard fans of YouTube channels, and follow video game pros and esports on Twitch, among other activities and platforms. Drive awareness and purchasing behaviour in verticals such as cosmetic beauty, health, fitness, food and beverage, electronics, professional services, and more.
A Savvy Approach
Influencers are business-savvy trendsetters with their hands on the pulse of what their audience wants. We help brands harness influencer trendsetting. Our clients send us products and messages that they want to promote. We send them to powerful influencers who have large, relevant fan followings. Our carefully selected influencers then share stories about your brand. By organically inserting products and messages into the influencer's social media posts and daily story, our clients get more attention.
---
Brand Ambassadors
We worked with Olympic gold medalist Bruny Surin on several initiatives as a brand ambassador for a Montreal med spa. Bringing a brand ambassador on board for your marketing allows you to amplify your message and harness their wider audience and star power.
Popular bloggers and influencers already have a direct line to your audience. They engage with your future customers on a regular basis. You just have to reach them!
Do This For My Company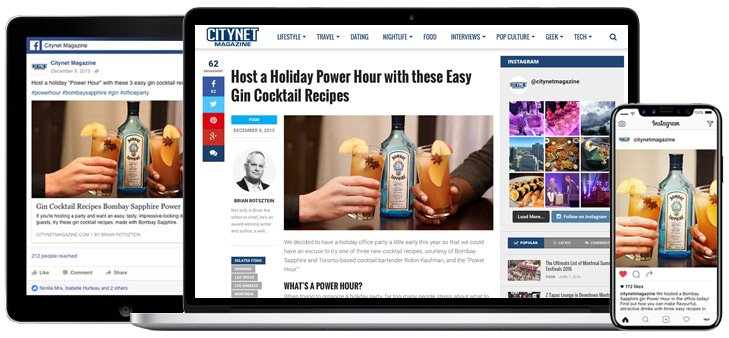 Sponsored Content
We work with brands to create great content. That content is then published on websites by influential bloggers promoted through social media outlets. Brand collaborations can also result in great outcomes.
The image on the side is from a small event marketing collaboration that yielded sponsored content. We worked with Bombay Sapphire gin to promote their new recipes just before the end of year holiday season. We threw a small party and used the content to write articles and promote them through Instagram and Facebook.
I Want This For My Brand
We Are On Both Sides
How do we know so much? We are on both sides of the coin! We work with influencers to promote brands that come to us. But we also influencers in our own right through our own social media following, most notably through the popular lifestyle branded Citynet Magazine, which we run! That includes over 1,000 articles, a YouTube channel with over two million views and thousands of subscribers, and an Instagram account with thousands of targeted followers. It is among the top Montreal influencers but also has wider appeal beyond the city limits.
A Natural Fit
There should always be a natural fit between the influencer and intended audience. Whether the market is lifestyle, fashion, health and wellness, home, software, plastic surgery, beauty, travel and tourism, video games, or other areas, attempting to reach a specific audience makes the most sense.
Social media influencer marketing is innovative in that you can customize the content for each group of followers. For example, if your followers like your YouTube channel, reach them with videos. Whether you need editorial content management or social media product placement, we can help.
Is the media talking about our business or brand? Using great content and social media and properly implementing social media techniques (such as promoting a hashtag) is the modern way to get your content marketing message across. Listen to fans, create content, and engage them!
Different Types of Influencers
Social media drives consumers to discuss and share your brand.
Influential bloggers
Influential Instagrammers
Influential Snapchatters
Influential vloggers
YouTube Stars
Twitch and esports competitors
Forum junkies
Brand ambassadors
Promotional models
People on this page also looked at these